APPLEWOOD®
Cheesy Bean Halloween Mummies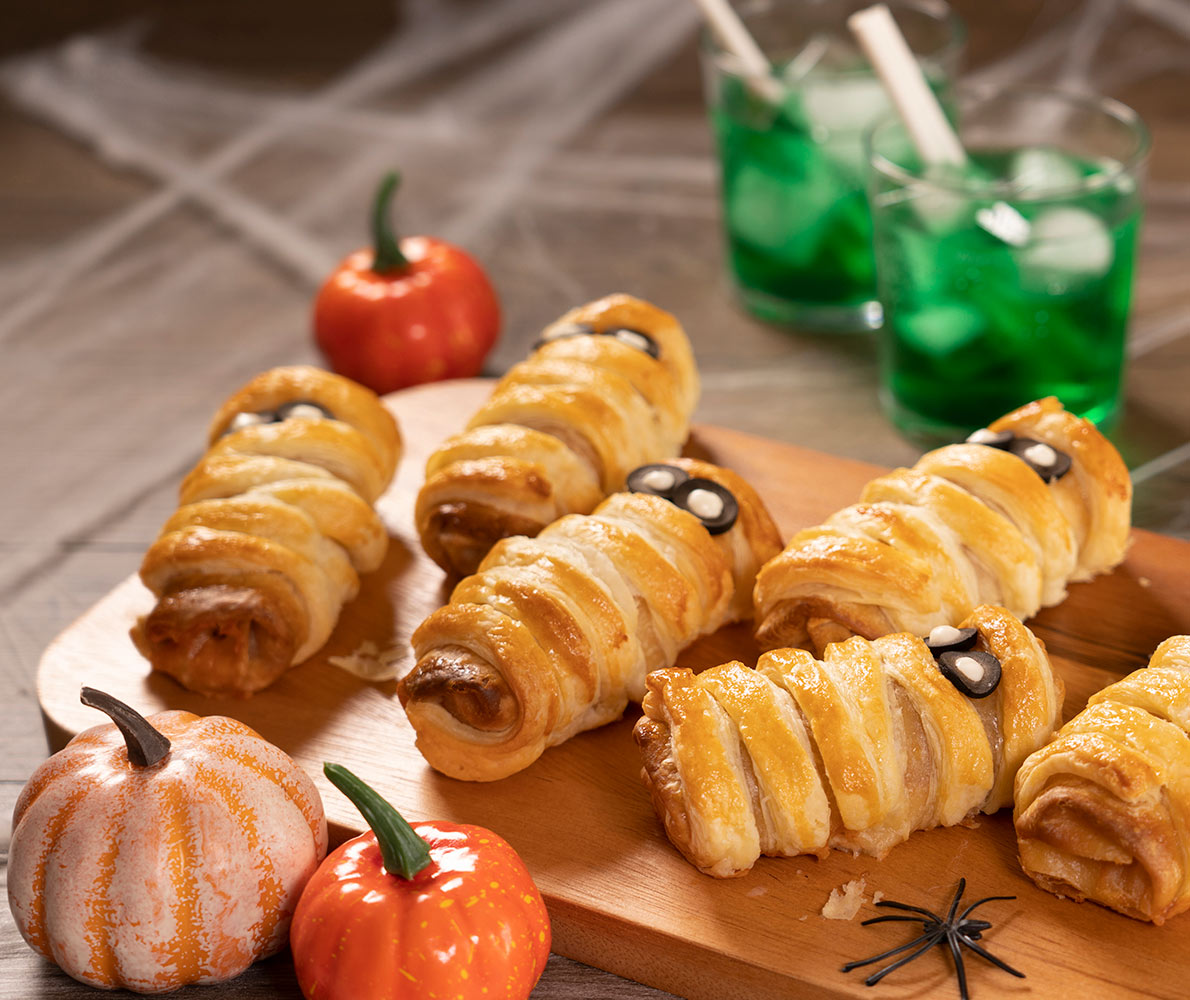 Ingredients . . .
6 mini white tortilla wraps
6 Applewood® Slices
Baked beans
Ready-rolled puff pastry
1 egg, beaten
Black olives
Honey or mayonnaise
Method . . .
Preheat the oven to 200°C/180°C fan/gas 6 and line a baking sheet with baking paper.
Warm the tortilla wraps in the microwave for a few seconds, this makes them more pliable.
Place an Applewood® Slice in the centre of the first warmed wrap, then top the cheese slice with a couple of teaspoons of baked beans, draining off any excess sauce.
Fold the cheese slice back on itself to cover the beans, this holds back the beans as you roll.  Next, carefully fold in the top and bottom of the wrap to enclose the filling. Tightly fold and roll up the tortilla to create a cylinder. Press down on the rolled wrap lightly to hold everything in place. Repeat with the remaining wraps.
Cut the pastry into 1.5cm strips using a knife or a pizza cutter.
Take strips of pastry and wrap around the tortilla parcels, leaving a little gap for the mummy's eyes. Two strips of pastry should cover each mummy. Place on the lined baking sheet and repeat.
Brush the mummies with beaten egg and use a little egg to stick the ends of the pastry to the wrap. Bake for 15-20 minutes until puffed and golden.
Allow to cool slightly.
Cut the black olives into thin rings to create eyes. Use a little honey or mayonnaise to stick the eyes to the mummies before serving.