APPLEWOOD®
Comforting Cheese Pie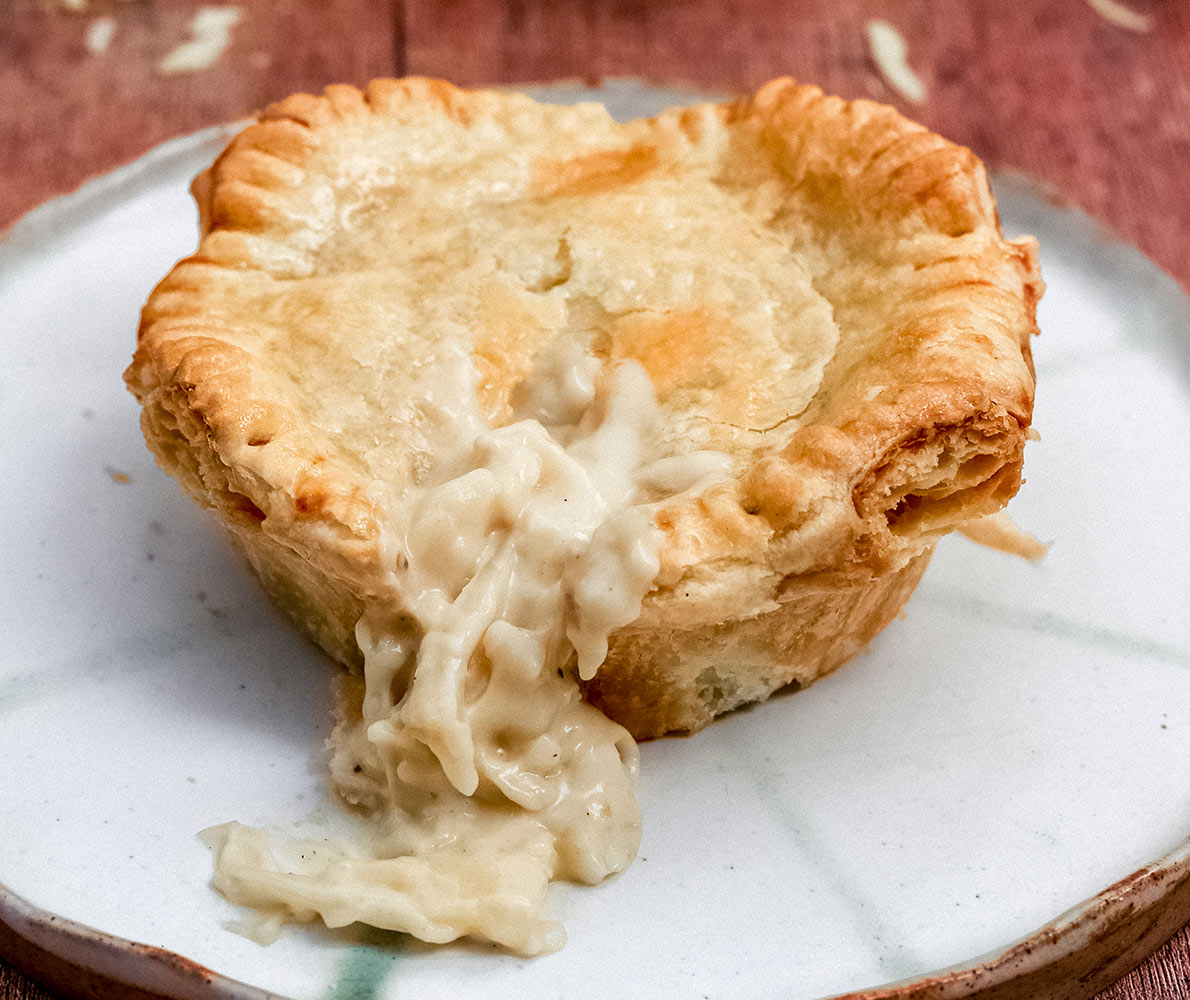 Ingredients . . .
1 medium potato (peeled and cut into 1cm cubes)
1 roll of Puff Pastry
2 tbsp unsalted butter
1 large onion (peeled and finely sliced)
2 tbsp plain flour
180ml whole milk
190g Applewood® Wedge
¼ tsp salt
½ tsp freshly ground black pepper
1 egg – lightly whisked
Method . . .
Preheat the oven to 200°C. Unroll one of the rolls of pastry and slice into six squares. Line 4 individual pie dishes with the pastry squares. Prick several holes in the base section of the pastry using a fork. Place the pies on a tray and bake in the oven for 10 minutes to par-cook the base, then leave to cool for 10 minutes (whilst carefully removing the parchment). While the pastry bases are cooking, make the filling.
Add the diced potato to a pan and cover with water. Bring to the boil and simmer for 10 minutes (until the potato is starting to break apart). Drain and put to one side.
Melt the 2 tbsp of butter in a second pan and add the sliced onion. Stir and cook over a medium heat for 5 minutes until the onion softens. Sprinkle on the 2 tbsp of flour and stir to coat the onions. Cook for a further minute.
Add the 180ml of milk (a splash at a time), whilst stirring, until the milk is fully incorporated. Add the Applewood® Cheese, salt, pepper and the potatoes. Stir together until the cheese has melted and the potatoes have broken down.
Divide the filling between the four pie cases. Trim the overhanging edges of the cooked pastry using a pair of scissors. Brush a little of the egg wash onto the edges of the pastry.
Use another square of pastry to top the pie and filling. Cut off any excess pastry with scissors, then crimp the edges of the pastry together using a fork. Brush the tops of the pies with egg wash and pierce two holes in the top of each pie using a sharp knife. Place the pies on a baking tray and bake in the oven for 20-25 minutes until golden brown.