APPLEWOOD®
Double Stacked Sliders with a Smoky Sauce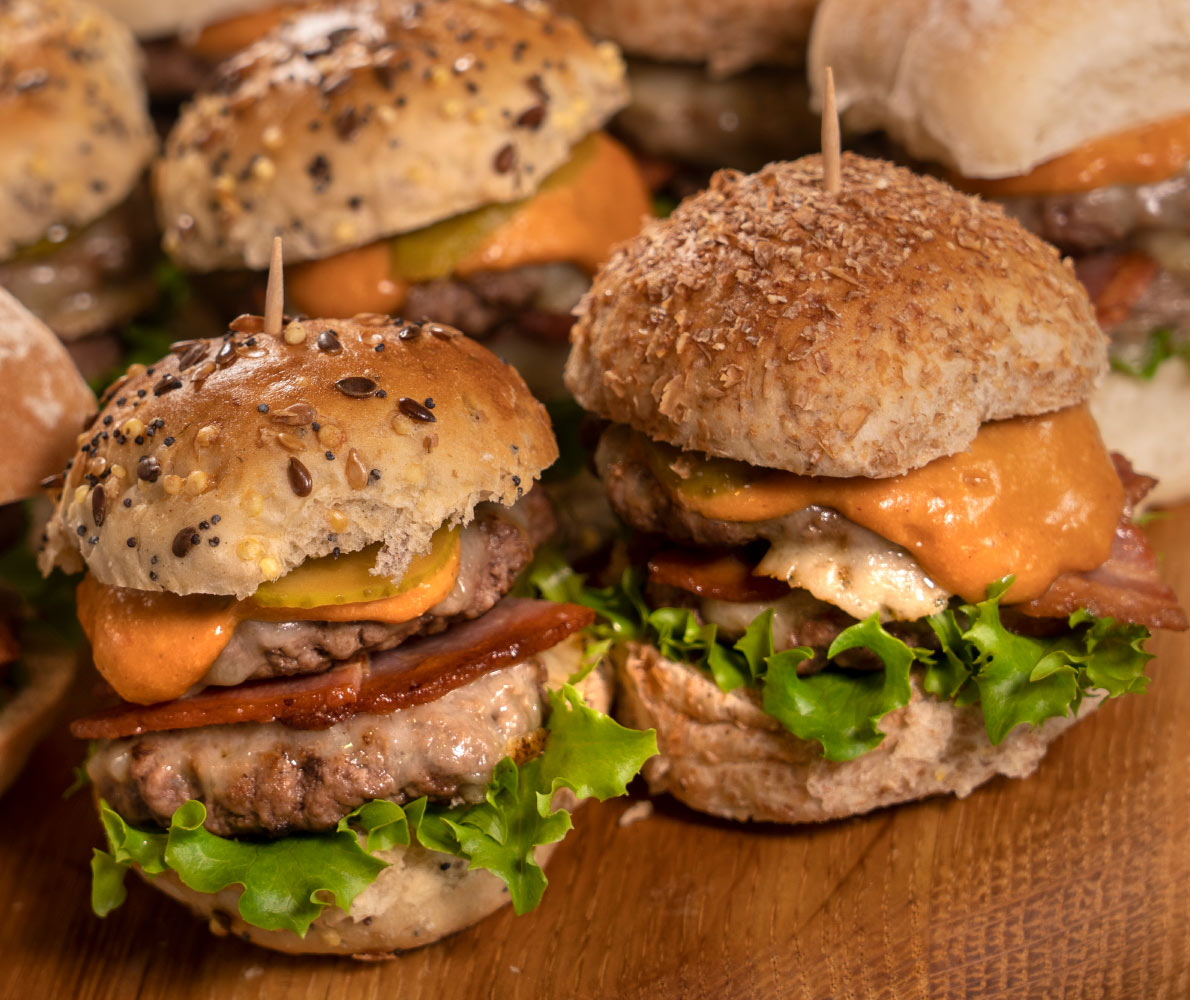 Ingredients . . .
For the sliders:
500g minced beef
Salt and pepper
Oil spray for frying
5 Applewood® Slices
9 slider rolls, sliced
3 slices ready-cooked smoked bacon (optional)
Shredded lettuce
Pickled gherkins, thinly sliced
For the Applewood® dipping sauce:
2 Applewood® Slices
4 tbsp light mayonnaise
2 tbsp BBQ sauce
Method . . .
Applewood® Dipping Sauce
To make the Applewood® dipping sauce, crumble the Applewood® slices into a microwavable jug. Add the mayonnaise and BBQ sauce. Mix and microwave for 45 seconds on full power. Stir and heat for a further 30-45 seconds until the cheese is fully melted. Stir and transfer to a small bowl.
Applewood®  Sliders:
 

Put the minced beef in a mixing bowl and season with salt and pepper and mix well with your hands.

Divide the mince into 18 equal portions. Roll each into small balls and then flatten into small thin patties slightly larger than your slider rolls. Place on a plate(s) and cover and chill until required.
Cut each Applewood® slice into quarters. Cut each bacon slice into three; set aside.
Frying: fry the patties in a lightly oiled frying pan over a high heat for about 1½ minutes, then flip and cook for another 1½ minutes on the other side. Place a quarter slice of Applewood® on to each burger turn off the heat and cover the pan for about 1 minute to allow the residual heat to melt the cheese. Repeat the process with the remaining patties.
Barbequing:

cook each burger for 1-2 minutes on each side. When both sides are cooked, top each with a quarter slice of Applewood® and close the BBQ lid (if possible) and allow the cheese to melt.

To assemble the sliders, place a little shredded lettuce on the base of each sliced roll. Top with a burger. Next add a piece of smoked bacon. Add another burger and pickle slices. Top the slider and use cocktail sticks to hold everything together. 
Serve immediately with the dipping sauce.