APPLEWOOD®
Sticky Bourbon Chicken Wings with a Dirty Cheesy Dip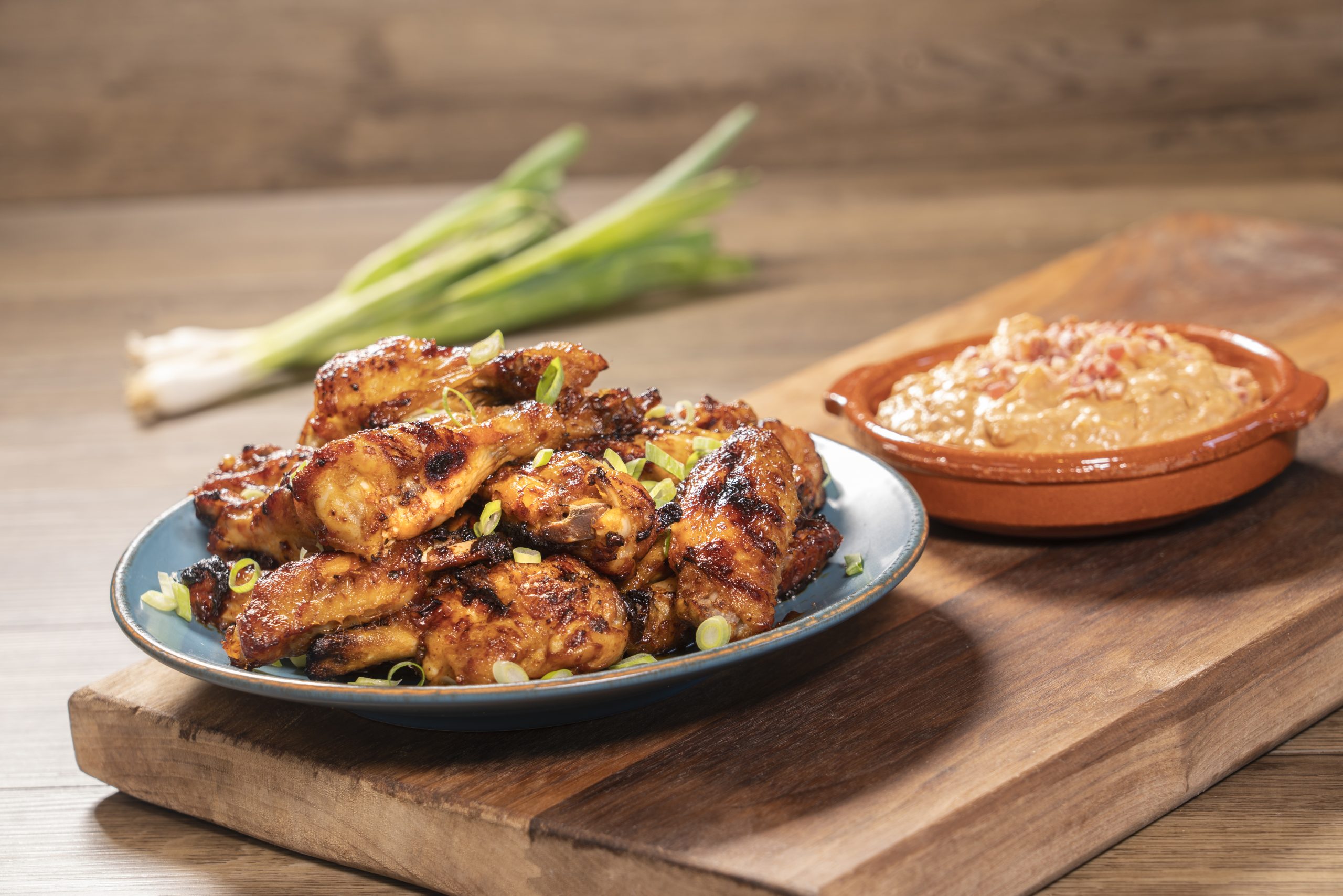 Ingredients . . .
For the wings:
1kg chicken wings
75g ketchup
3 tbsp cider vinegar
3 tbsp bourbon whisky
3 tbsp (30g) brown sugar
1½ – 2 tbsp hot chilli sauce, according to taste

1 tbsp Worcestershire sauce

2 tsp BBQ seasoning
25g butter
1 tbsp oil
Salt & pepper
For the dirty Applewood® dip:
3 slices cooked smoked bacon (approx. 20g), finely chopped
200g light cream cheese
75g Applewood® Wedge, grated
½ cup (120ml) BBQ sauce
To serve 3-4 Spring onions, trimmed and finely sliced
Method . . .
Preheat the oven to 220C/200C fan/gas 7.
Prepare the chicken wings; firstly, remove and discard the wing tips, then cut the wing in two at the joint. Place the prepared wings on a large roasting tray. Pour over a tablespoon of oil and season with salt and pepper, mix well to ensure they are evenly coated and place in the preheated oven for 20 minutes.
Make the hot wing sauce by combining all the ingredients in a small saucepan and heat until the butter has melted. Simmer for 5 minutes.
After the 20 minutes pour the hot wing sauce over the chicken wings. Mix well and return to the oven. Reduce the heat to 200C/180C fan/Gas 6 and bake for another 10 minutes.
Prepare the dirty Applewood® dip by blitzing 3/4 of the bacon with the other sauce ingredients in a food processor, or with a stick blender until well combined, but not completely smooth. Transfer to a small bowl and garnish with the remaining chopped bacon.
Remove the chicken wings from the oven, turn and mix before returning to the oven for a final 10-15 minutes until cooked, well browned and sticky.
When cooked, transfer the wings to a serving platter. Garnish with the spring onions and serve immediately with the Applewood® dip and plenty of napkins.