APPLEWOOD®
Super Soft & Moreish Garlic Bread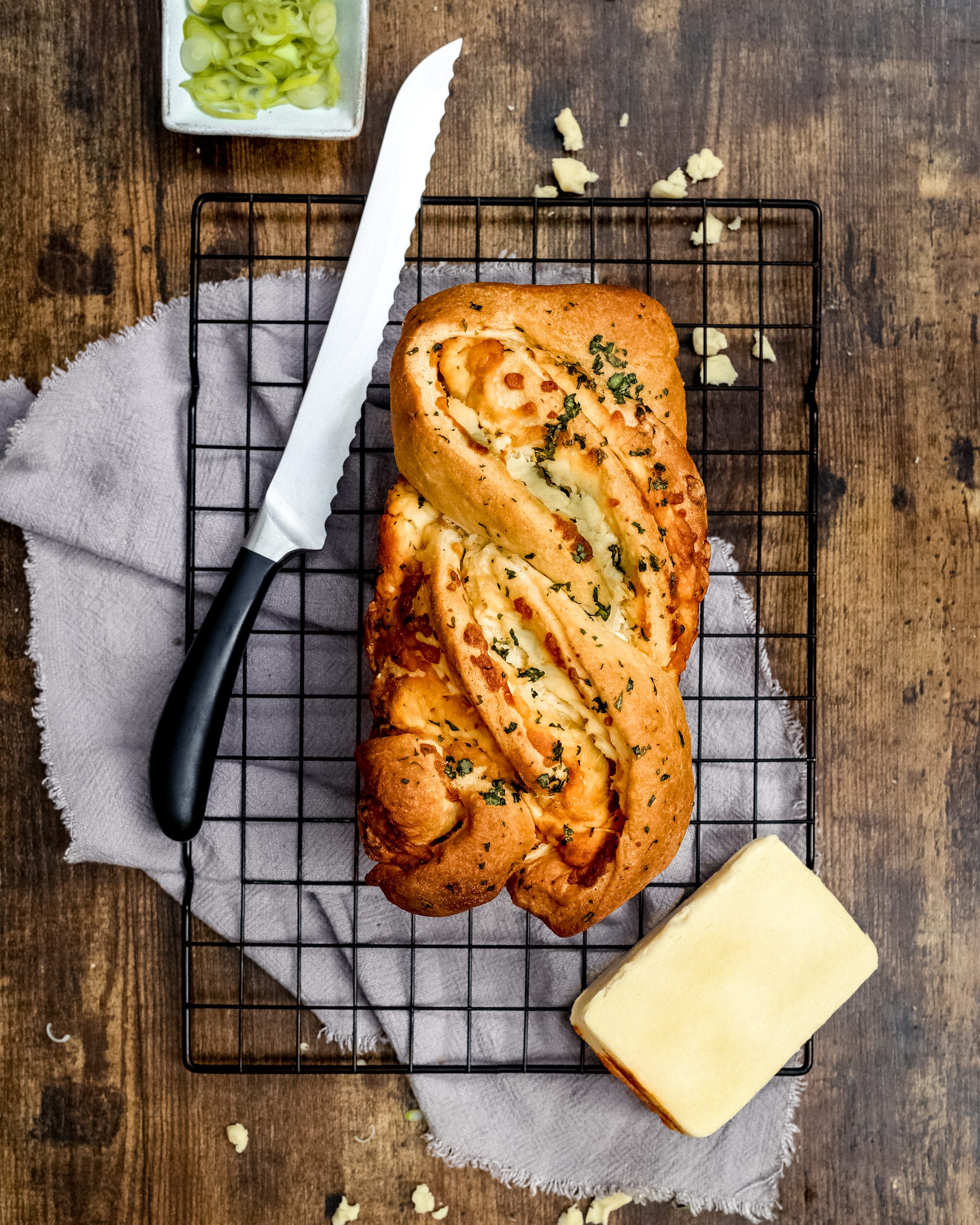 Ingredients . . .
390g bread flour
250g grated Applewood® Wedge
120ml buttermilk, warm
72g unsalted butter, melted but cooled a little
80ml warm water
egg
5 tbsp yeast
1 tsp salt
75 tsp garlic powder
25g granulated sugar
30g unsalted butter, melted
25 tsp garlic powder
2 tsp fresh parsley, chopped
Method . . .
Whisk the warm water, buttermilk, sugar and yeast, cover with a tea towel and let sit for 5 minutes.
Add the egg, salt, butter, garlic powder and one cup of the flour, beating on low. Scrape down the bowl sides and add the rest of the flour. Beat for about 2 minutes until it comes together as a dough.
If you're not using a mixer, tip out the dough onto a lightly floured surface and knead for five minutes. If you are, then knead it on medium speed.
Grab a big bowl, grease the insides and tip in the dough. Roll the dough around to coat it in grease and cover in plastic wrap or a clean kitchen towel. Pop it somewhere warm to rise for about 2 hours until it doubles in size.
Grease your loaf pan. Uncover the dough and punch down on it to release any air. Tip onto a floured surface and roll it out to the same size as your loaf pan. Cover in the grated cheese leaving about 1.5cm around the edge.
Get the layered, knotted effect by rolling the dough into a 15 inch log. Cut in half lengthwise, criss cross cut along it, then place one half on top of the other to form an X. Twist the two together, and tuck any leftover cheese into the gaps.
Pop the twisted loaf into the pan and cover, letting it rest for about half an hour. Preheat your oven to 180 degrees.
Make the topping by whisking the herbs and garlic powder with the melted butter and drizzle all over.
Bake for between 45 and 55 minutes until the loaf is golden brown and when you tap the top it sounds hollow.
After it's cooled you can slice and enjoy. What a treat!